Introducing Lille Group's cutting-edge solution for cardiologists and advanced practitioners to manage cardiac device data and remote monitoring needs.

Cardiac Signals™ is a cloud-based software solution that automatically incorporates transmissions from all major device manufacturers into one easy HHS/CMS certified platform to easily manage your population of patients enrolled in remote monitoring. Our HHS/CMS certified platform simplifies the management of transmissions while automatically capturing and identifying all billable events
Incidence of COVID-19 has paralyzed the "In-Clinic or Pacer Clinics" and the need to now manage more patients remotely is critical to help care for these cardiac device patients. Read more on how Cardiac Signals can improve workflow managing more patients without creating the need for more staff.

Cardiac Device Data Management
Gives clinicians peace of mind that all patients with cardiac implanted devices are being followed in line with HRS class 1 recommendations by capturing all transmissions and events that are clinically significant. The time you save downloading transmissions allows for greater focus on device event triage.
Empowers cardiologists, advanced practitioners and enterprises to shift from expensive on-premise legacy solutions with high IT overhead to our browser-based zero footprint solution focused on optimizing your clinical workflow.
All device transmissions are delivered 24/7/365 directly from the device manufacturer to your Cardiac Signals account. This automation eliminates the need to constantly check multiple manufacturer device portals to download transmissions saving clinicians time and labor.
Cardiac Signals is easy to operate as a standalone solution or as a solution integrated with your preferred EHR platform. In addition, Cardiac Signals will generate your billing daily or at whatever frequency you prefer to ensure all billable events are captured. The automated billing feature tracks the monitoring period for every device and notifies clinicians when billing is due or overdue and what documentation is needed.
Learn More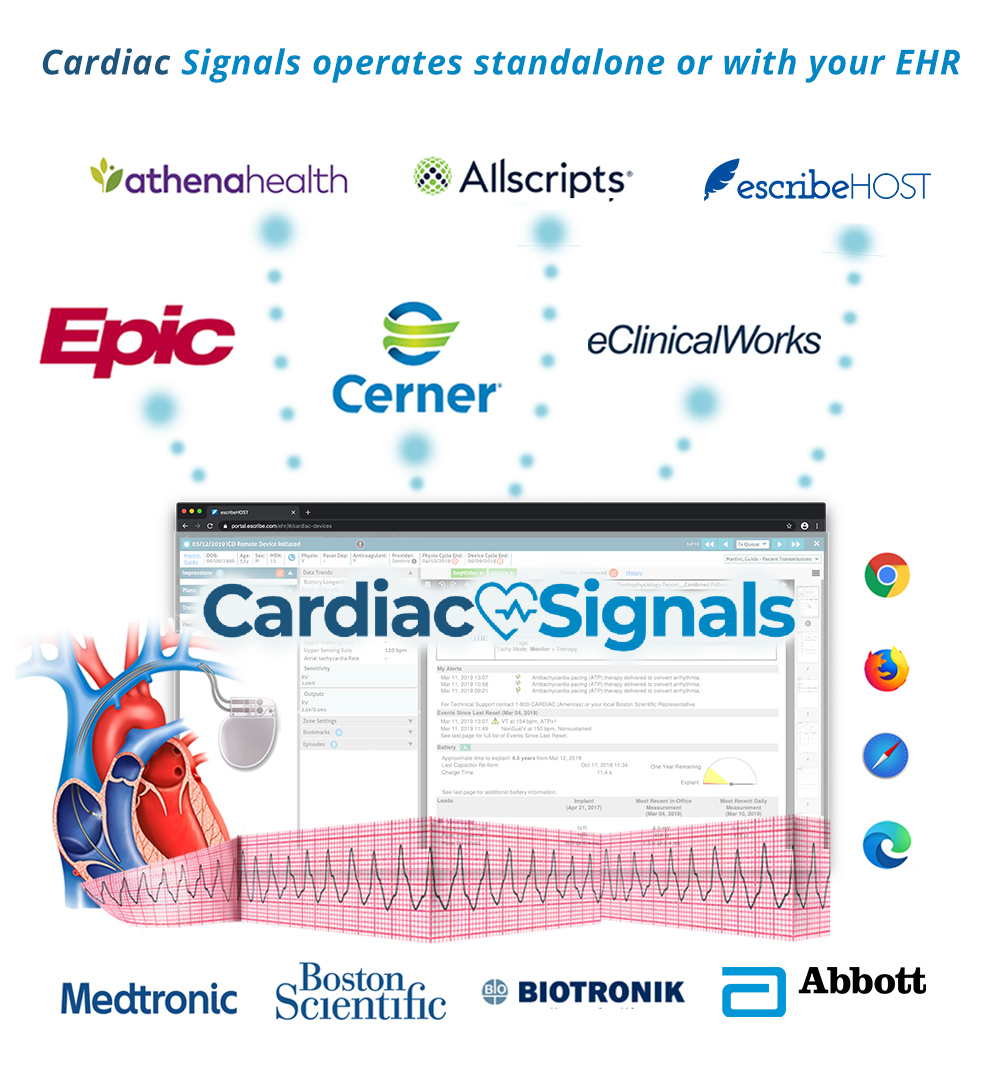 Our Products and Services

Cardiac Signals - The innovative cloud-based solution for cardiac device monitoring and data management. With this solution you can improve patient outcomes, increase productivity, boost efficiencies and manage more patients in less time. It is a cloud-based platform that is Federally certified to the latest standards (12/30/2019) and exceeds HIPAA compliance.

Our EHR solution is cloud-based, feature rich and has obtained numerous certifications. Most recently our platform was certified by Underwriter Laboratories to comply with the latest Federal standards for Electronic Health Record Technology. Our EHR offering is easy to operate and requires no software installation or IT support. The only requirement is a modern web browser and a reliable internet connection.
Call Center Management - Overflow Support
Lille Group provides a unique Overflow Support service. Busy practices are often inundated with patient phone calls. With our Overflow Support service, we act as an extension of your office. We transfer urgent calls to a staffed nursing group and assist with documenting non-urgent patient requests in your preferred EHR platform - following your existing procedures for interacting with patients. Our Overflow Support service improves your patient care by triaging incoming calls and increases workflow efficiency by reducing burdensome voicemails. This unique service puts important patient communication directly into your EHR or HIS and into your preferred workflow.
IT Services
Lille Group is an internationally recognized company in the area of health information technology services. For over 20 years Lille Group has served both large healthcare systems such as Greenville Health System (now Prisma Health) as well as many smaller private practices and solo practitioners. On our larger initiatives we have partnered with IBM Global Business Services to deliver innovative solutions for server and desktop management, leveraging the Linux operating system running on IBM Z Series mainframes. We have extensive experience processing DICOM images and PACS technology. We support large deployments of Osirix MD which is an FDA approved DICOM viewer that runs on Apple's OSX platform (Mac products). The Osirix MD solution is both affordable and feature rich.